Fit Fest 2022 was a success!
Thank you to everyone who came out to Fit Fest 2022 and to our sponsors and partners who made it all possible.
Missed Fit Fest or want to remember the fun times?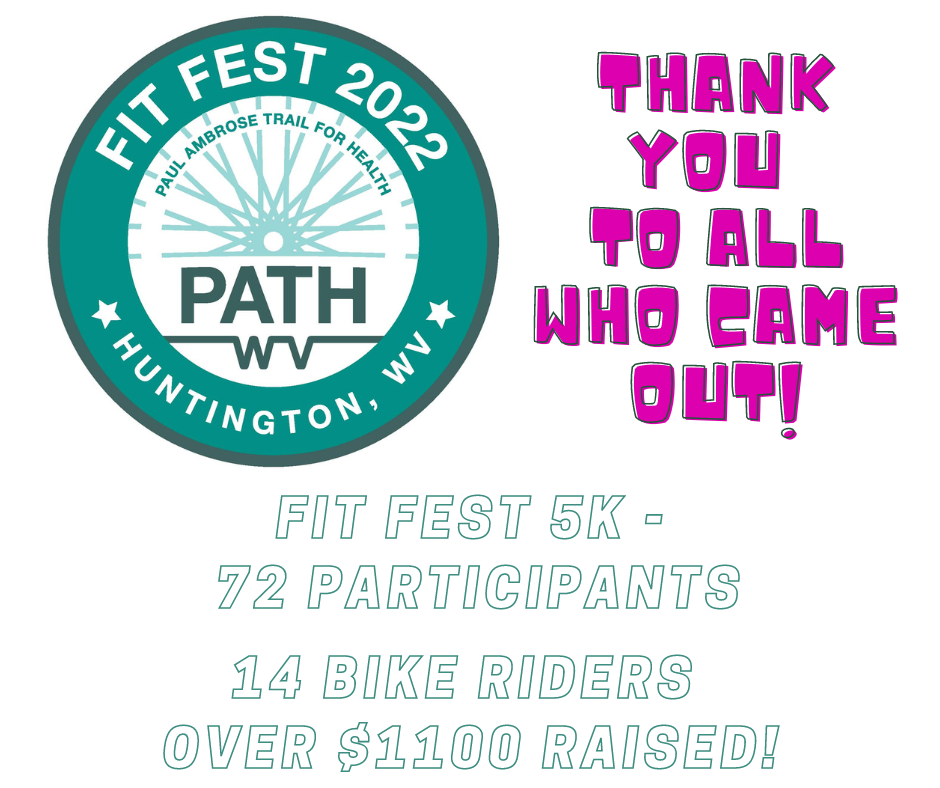 Check out our recap below!
Fit Fest 5k had 72 runners/walkers participating at either Ritter Park or with a virtual option
Our 10 mile family friendly bike ride had 14 bike riders plus our friendly Huntington and Marshall University Bike Patrol, our youngest particpant was four years old!
Families and kids checked out the bike rodeo and games with the Huntington YMCA
In total we raised over $1100 for the PATH, sold bike licenses and educated all participants about Dr. Paul Ambrose and the locations of the Paul Ambrose Trail for Health
Fit Fest 2022 is here! September 10th 2022

The City of Huntington and O Such Race Planners are partnering to hold a 5K on Saturday, September 10 in Ritter Park as part of Fit Fest 2022. FitFest is an event in honor Dr. Paul Ambrose, a Huntington physician who was killed in the 9/11 attacks and dedicated his work to improving health outcomes, and a fundraiser for the Paul Ambrose Trail for Health (PATH) an 18.6 mile bicycle and pedestrian trail system providing free recreation and alternative transportation opportunities for Huntington and surrounding areas. Proceeds from the race will go towards maintaining and expanding the PATH in order to attain the vision of having a safe, connected trail system around the city.
Come get in a beautiful Fall run or walk and help raise funds and awareness for the Paul Ambrose Trail for Health.
Find out more below:
Race Registration Sites:
In person: TriStateRacer.com/FitFest5K
Virtual: TriStateRacer.com/VirtualFitFest5K
Sponsorship: Fit Fest 5K Sponsorship Form