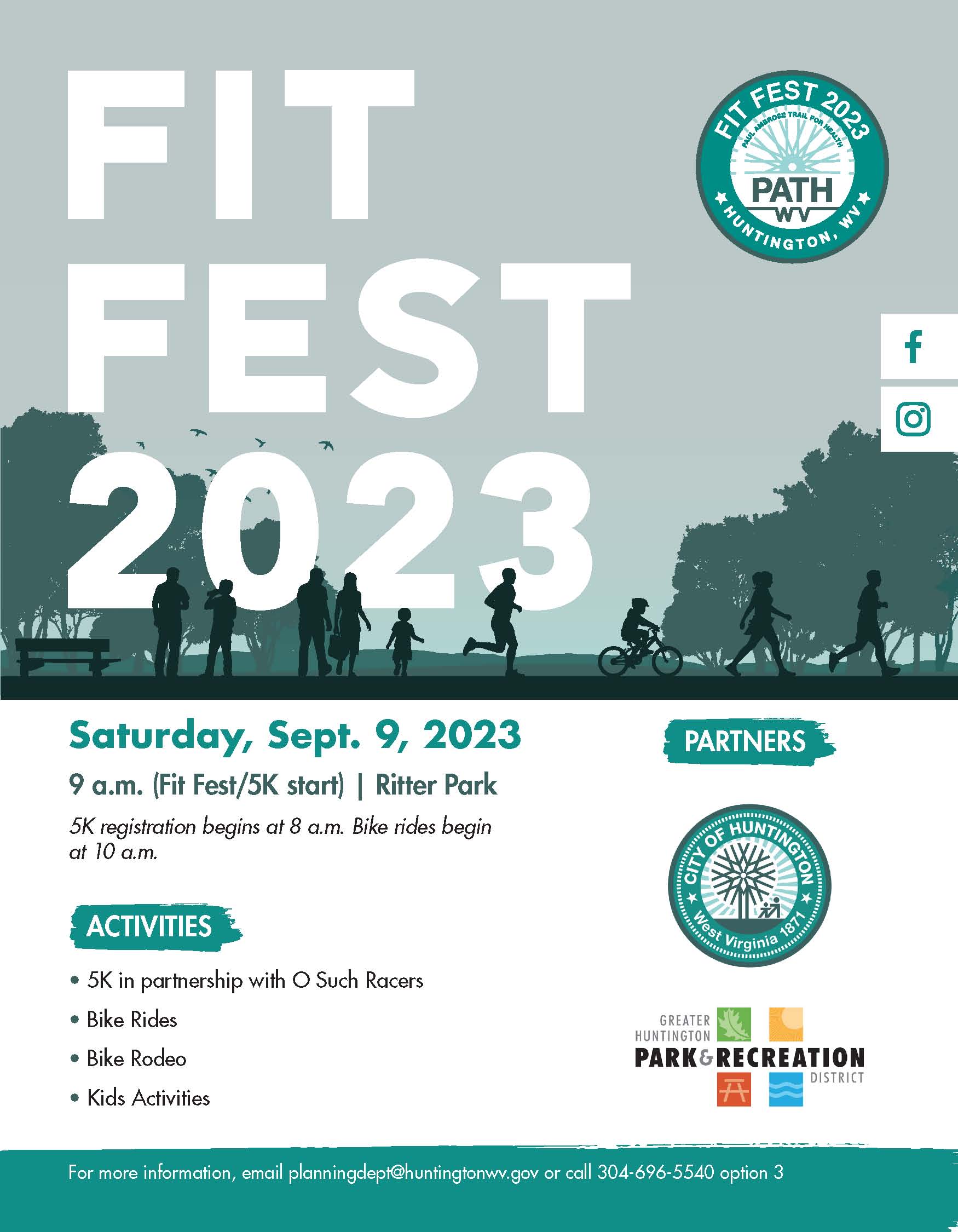 Fit Fest 2023 5K Registration & Sponsorships Now Available!
Race registration and sponsorship can be mailed to:
Fit Fest 5K c/o Alan Osuch 5024 Wiliams Ave. Ashland, KY 41101.
In addition to the 5K walk/run we will have an opportunity for an approximately 6 mile bike ride and 10 mile bike ride of different sections of the PATH. These bike rides are FREE and family friendly! We will have route leaders, fun facts and information about the PATH and future PATH connections and will be supported by our City of Huntington Huntington Police Department Bike Patrol. No need to pre-register for these free rides but come the day of and get out on your bike!
Check out the planned routes here: Fit Fest 2023 Bike Rides Route Map
For questions or to learn more, email PlanningDept@huntingtonwv.gov.
Want to learn about Fit Fest?
FitFest is an event in honor Dr. Paul Ambrose, a Huntington physician who was killed in the 9/11 attacks and dedicated his work to improving health outcomes, and a fundraiser for the Paul Ambrose Trail for Health (PATH) an 18.6 mile bicycle and pedestrian trail system providing free recreation and alternative transportation opportunities for Huntington and surrounding areas. The City of Huntington, Greater Huntington Parks and Recreation District and O Such Race Planners are partnering to hold a 5K on Saturday, September 9 in Ritter Park as part of Fit Fest 2023. Proceeds from the race will go towards maintaining and expanding the PATH in order to attain the vision of having a safe, connected trail system around the city.
Come get in a beautiful fall run or walk and help raise funds and awareness for the Paul Ambrose Trail for Health.